Based on the Carmarthenshire/Pembrokeshire border, and specialising in Cockers. Rowston Spaniels is run by Dai and Andrea Ormond. Dai started running Springers in 1978 and won approximately 6 novice stakes and gained 3 seconds in open stakes. He then took on a few Cockers and won success with Field Trial Champion Craig Felin Angus.

The first daughter of this champion became Field Trial Champion Ginger Imp of Rowston. She then produced Field Trial Champion Rowston Imp. Her Off-Spring Rowston Rosy is pictured below along with her daughter Field Trial Champion Rowston Rachel, sired by Field Trail Champion Maesydderwen Scimitar who is owned by Peter Jones. This began the Rowston line of competition winning cocker spaniels. In 2010 Field Trial Champion Rowston Serana came second and Field Trial Champion Rowston Rachel had a Diploma in the Championship.
More recenlty FTCh Byrbwll Dotty WON 2016/2017 British Championship.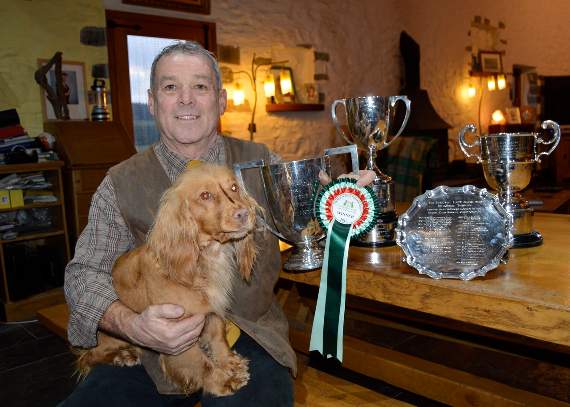 Dai and his three-year-old spaniel Byrbwll Dotty, brought home the top prize, beating the competition of 40 or so other competitors, all of which had to win open stake events throughout the UK.
Full story http://www.tenby-today.co.uk/article.cfm?id=109558
Dai is also judging the Cocker Championship 2017/2018.


FT Ch Rowston Rosy with daughter
F.T.Ch Rowston Rachel
Dai has qualified for the British championship many times and gained numerous awards.

In 2004, he judged the Swedish championship along with the aforesaid Peter.
He has also judged at the 2007/8 Cocker Spaniel Championship at Sandringham.

Since training his own dogs at Waterwynch Dai decided to make use of the land and invite paying guests to work their dogs in many different ways.
In the summer months, one to one training days will be available for guests to bring their dogs for tuition in readiness for trialling under the supervision of Dai or Peter. Prices start at £30 per person per hour.

From September the land will be available for you to bring your dog to be shot over. The game will, of course, be partridge until October begins and then other game will be available. We make the experience as it would be on a field trial day. Prices start at £80 per person. 4 head of game will be shot at different intervals. As evening falls duck flighting is an option if required. There may be a small fee.



| | |
| --- | --- |
| | |


We can accommodate parties of upto four/five guns for a rough walked up day. The land includes long kusa and nard grass, rushes and lots of bracken with patches of gorse and grass inbetween. Game including partridge, pheasant, woodcock, snipe etc. Prices start from £150 per gun.The day starts with morning coffee in the log cabin on the mountain, then Dai will get the guns and beaters ready for the shooting during the morning. Pleasse bring lunch with you as we will break for food. We carry on then until around 3.30 / 4pm to hopefully round the day off with duck/woodcock flighting.

For more information ring Dai on 07831 111896.

We have recently converted some traditional farm buildings into tasteful accommodation and Spa Treatment Rooms with Indoor Pool - you may want to bring your partner for a treat in the spa while you go shooting or dog training for the day (more information on www.eternalgroup.co.uk). Other accommodation is available.

Our recently converted traditional dutch barn can be used in the mornings for cosy breakfast buffets. It houses a rayburn which is available for our guests to use to rustle up dinner or snacks.

In the evening our guests can gather in the dutch barn to chat and have a drink, maybe try their hand at traditional games or leaf through a topical magazine. A TV will also be made available. There is also a cosy pub which serves a range of meals just about a mile away.


| | |
| --- | --- |
| | |