Rowston Fold of pedigree, registered Highland cattle located on the beautiful Pembrokeshire/Carmarthenshire border was founded in 2003. Dai often saw Highland Cattle on his frequent trips to Scotland and what began with a fondness for the breed, turned into an interest in beginning our own fold.

We began to build the fold with some yearling heifers from the May fold. We progressed with the purchase of some young stock from the Isle of Mull. A visit to the sales at Oban were a must and there we bought Bac Beg 8th of Torloisk. (Pictured above.)

A young stock bull Gillie Dubh 5th of Killochries was jointly bought. We have had some excellent heifer calves from him this year.

Bac Beg was artificially inseminated by Barrachie 2nd of Douneside and has produced a 1st class, well built heifer.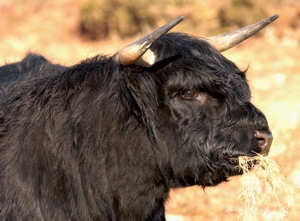 The fold is growing and we now have thirty head of various ages and sexes roaming on 240 acres of our open land. The land begins near our home at Red Roses and travels up 'Marros Mountain' and gradually sweeps down toward Marros itself. At it's peak you can overlook Caldey Island and on a fine day you can see Lundy Island, The Gower peninsular and as far as Burry Port.

Our Highland cattle feed naturally on grass in the summer months and in winter are fed haylage, supplemented with bruised oats and organic feed for essential minerals and vitamins. The cattle are never housed indoors and have freedom to find their own shelter from the worst of the winter weather.

Preferring to embrace organic farming we aimed to provide a habitat that benefited not only our newly emerging Fold but also the local wildlife. They are excellent mothers, and have little difficulty calving. The meat tastes superb and is very low in cholesterol as their strong hide and thick hair does the job that fat does in other breeds.



1st place was gained at the 2007 Royal Welsh Show with our two year old heifer, Sonasag 1st of Rowston.
We now have pedigree Galloway cattle, also Galloway & Highland crossed with White Bred Short Horn which produce a first class suckler cow